Bath is historically part of the traditional Somerset county, but its importance is such that it was made a county borough in 1889. In 1974 it temporarily became part of Avon but it is now the centre of North East Somerset which is politically independent from the other parts of Somerset.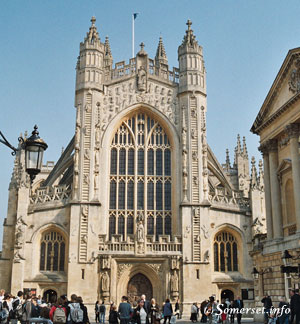 Bath is probably the most popular tourist destination in Somerset for a number of reasons. Firstly it is best known for its Roman Baths. The initial temple was built in 60-70 AD possibly over a Celtic shrine, and the baths were constructed over the few centuries. They have been slightly modified at various times during their history but the essential nature and character of the baths is very well preserved with one million visitors a year proving testament to it.
Bath Abbey also known as the Abbey Church of Saint Peter and Saint Paul is a very impressive church in the city. It was first founded in the 7th Century, but has been reorganized and rebuilt 3 times since then, the most recent being in the 16th Century.

Bath became a cultural centre in the 18th Century and has some of the best known Georgian architecture in the country. The exclusive Royal Crescent was designed by John Wood and is situated at the top of the hill looking over the Royal Victoria Park. The Circus (named after the Latin name for circle) is another famous and fine example of Georgian architecture.
This classic feel to Bath has attracted a number of artists, writers and other creative people to the area. These include Thomas Gainsborough and Jane Austen. Bath currently has 5 theatres, which is a large number for its size.